Activities Abound 
It really is all fun and games at Carnegie Heights at Henderson! Make each day your best yet with robust daily options for activities, fitness, learning, and more. Enliven your mind, body, and senses with a challenging workout, strength-training class, yoga session, or water fitness class. It's the perfect way to get your wheels turning before heading into the hobby center to practice your favorite craft or discover a new talent.
Enjoy a variety of films shown regularly in our community movie theater. Broaden your horizons with one of our special seminars or guest speakers, sharing fascinating presentations on a variety of cultural, creative, and engaging topics curated specifically for our diverse and inclusive audience. When you want to wind down, you can put your feet up while we pamper you in our onsite beauty parlor or barber shop or just take some time to stroll our pristine courtyard in peace and quiet. 
Activity Highlights
Movies in Our State-of-the-Art Theater
Holiday Celebrations
Special Events
Fitness Programs
Card Games
Billiards
Gardening
Dining Out
Shopping Trips
Ambassador's Volunteer Program
Local Festivals and Events
Live Entertainment
Cultural and Intellectual Pursuits
Tap into your curiosity and treat yourself to a number of opportunities to explore cultural and intellectual pursuits of all variety. Explore your inner poet at the writing desk. Channel your passion for timeless art over an inviting canvas and oil paints. When you want to reach with your mind, you can attend any one of our guest speaker and presenter events. Opportunities at Brightwater include:
Opportunities include:
Theater Performances
Museum and Gallery Events
Guest Speakers
Computer and Internet Classes
Art and Crafting Classes
Creative Writing
Life Stories Writing Project
Book Clubs
Discussion Groups
Music Groups​
An Inclusive Community
Expand your talents, interests, and community while pursuing meaningful personal growth at Carnegie Heights at Henderson. You can take time to enjoy quiet reflection and prayer in our inclusive Worship Center or join our volunteer program and experience enrichment by delivering joy to others.
Curate your perfect life every day in our senior living community in Henderson, NV. Contact us today to learn more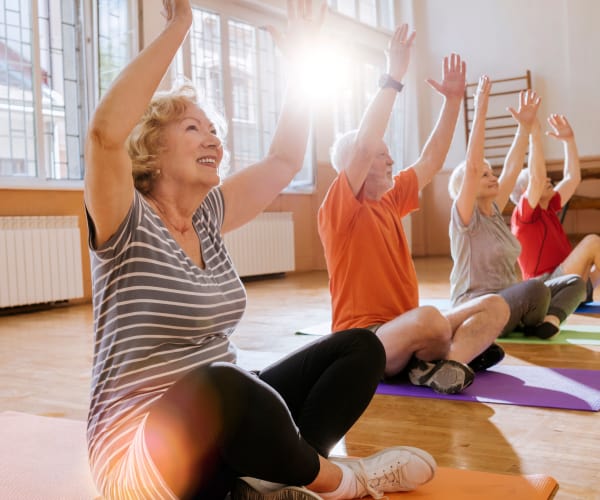 Physical Fitness
If a healthy body is an active body, then being healthy has never been more fun. You can choose from a variety of fitness classes tailored to all levels of physical ability. Our classes are designed to help you build or sustain your strength, flexibility, balance, endurance, and overall well-being. Discover renewed vitality and vigor while having fun every day. We recommend capping off a good workout with a bright and nutritious smoothie or refreshing citrus water for a satisfying end to an invigorating experience.
Ambassadors Program
For those who seek deep personal nourishment through the act of giving, our Ambassador Club volunteer program always welcomes newcomers. This is your opportunity to "give back" to the community of Henderson while fostering strong bonds and friendships in your personal life.